Do you ever wonder what to do with your heirloom nicknacks? You know, your Grandmas old antique pillow cases, old coins and things? Well, since we added a new little person to our family 7 months ago, it was time to make a Christmas stocking for my little man. Only the ones I made for my husband, my daughter and I , were a little outdates. Or shall we say, I just got tired of them. So I came up with this idea. I was going to take an old pillowcase that used to be my husbands Grandmothers. When we got it, I always wondered what I would use it for, since it was so old and all, but I kept them and they have sure come in handy! I also have collected many little treasures, things that used to be my great grandmothers, old coins from when I grew up in Denmark, old Danish "Nipse Naale"= antique glass needles, etc. This is what I created with it. I used;
Antique pillow case (my husbands belated Grandmothers)
1 "Nipse Naal"= Antique glass needles; super traditionally antique from Denmark that I used to collect as a little girl. You could buy them at this specialty antique toy giftshop found in my hometown of Odense down this little cobblestone street, located in a over 100 yr old building.
Antique silver necklace (used to be my great grandmother Alices's)
Antique button pouch found in my great grandmothers 1920's sewing machine (she was a seamstress in Denmark)
A few old Danish coins
Ribbon, Toile, pompom ribbon edging, initial letters ($1 each at Target), and some additional "Jewel-Bling"
Self adhesive iron on felt, and a few extra scraps of cream colored fabric to substitute for more stockings when i ran out of my pillowcase.
If You want to make your own version of these, just look thru your old stuff and use whatever means something to you. It is always a waste it seems to me to keep all the lovely heirlooms we get in a closet or such, I make it my goal to find new, fun, modern ways to display these treasures that I may enjoy them as much as the last person did. Most of my Christmas decor is inspired from this idea. Well most of EVERYTHING I have is. I love it.
Here are my knick knacks;
And old Mccalls stocking pattern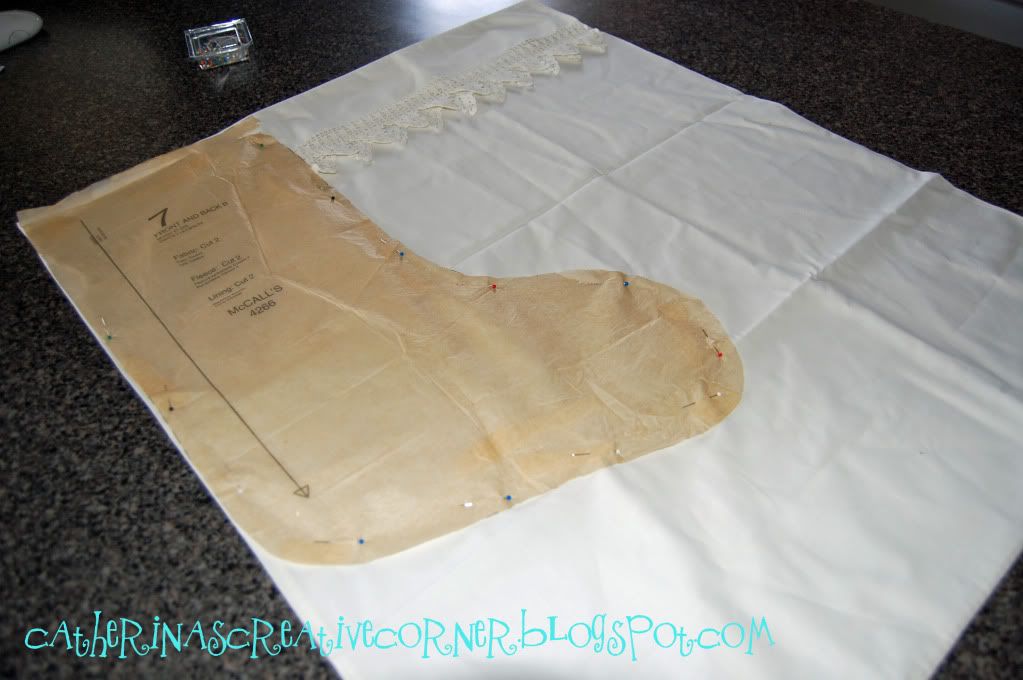 Iron on self adhedseve linning, to make the stocking "thicker".
my hubbys stocking with my great grandmothers old button pouch and my "nipse naale"
My Daughters stocking, blinged out, toile and a little piece of my great grandmothers necklace
My Stocking, with an added coin from Denmark, that is the Queen of Denmark on there...fitting for myself, hehehe:-) Also a piece of my great grandmothers necklace.
And this is my baby boys stocking, a few old coins, and again the old necklace.
All together. I CANT TELL you how MUCH these mean to me! Something special I can for sure pass down to my own kiddies. I AM IN LOVE!