So my big ongoing project has been my bedroom. I occationally buy a new Duvet cover and than I just rearrange everything from that pattern. Well, I get so tired of it all so I decided to go with something simple. All White. Well, mostly white. I have wanted all white for a while now, but have always veired away from it because I have little kids. Well, I tried it out and it really isnt that bad. I have actually never had any blueberry, strawberry, rasberry or sippycup juice stains on it AT ALL since I have had this, and it has been a good 3 months or so! (My 3 yr old eats fresh berries for breakfast).
I have an obsession with Potterybarn. If you know me I alwasys try to copy their ideas and make my own version of their stuff but for cheap., And when I found this PB Duvet set at a discount store so I was ecstatic! It even had our initials embroidered on it! And I LOVE monogrammed stuff (when its done right). I still have ALOT to do with this room before I will be totally satisfied.
Nr.1 is to get a new bed! I HATE, no I loathe my bedframe!! My hubby bought it a few months before we met when he moved into his new place. It is totally NOT my style, and I have wanted to chuck it out the window like....forever ago! Instead I will have to work around it, since we dont have room for a new bed or bedroom furniture in our tiny "Master"11x12 bedroom. No fun architectural details to work with either so That doesn't help either. It will have to wait until we move to our Dream Home. Someday....sigh.
BUT I do want to get a new headboard for this Queen Sized bed. If I can find an old one and repurpose it, or just make my own for less I will do it!
Nr. 2 Make curtains
Nr.3 Make more pillows! and get a new "throw with some color perhaps".
Nr. 4 Paint my bedroom grey or a dusty blue color.
Anyhow here it is....in all its "glory" hahaha!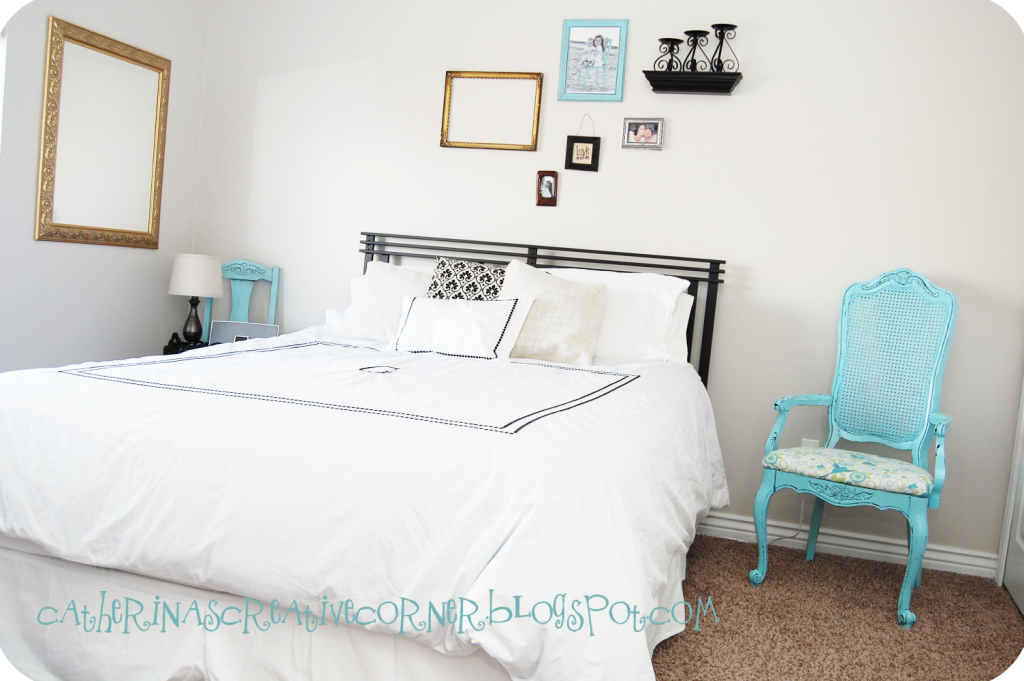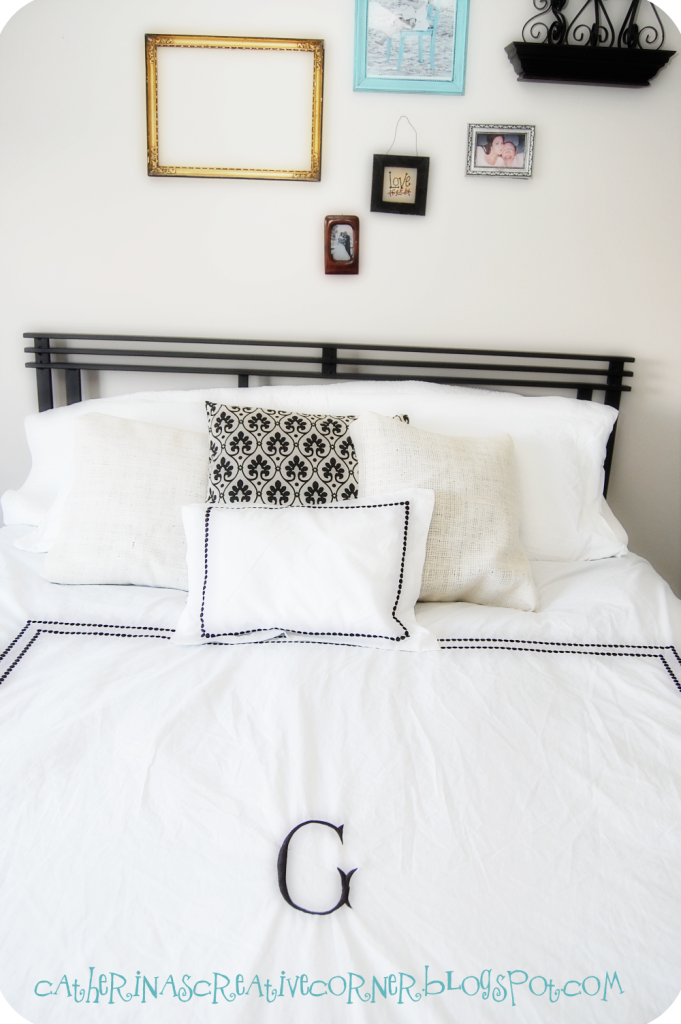 I made the 3 square pillows. Cream ones are burlap. NOt the most comfy, but it works for some Texture.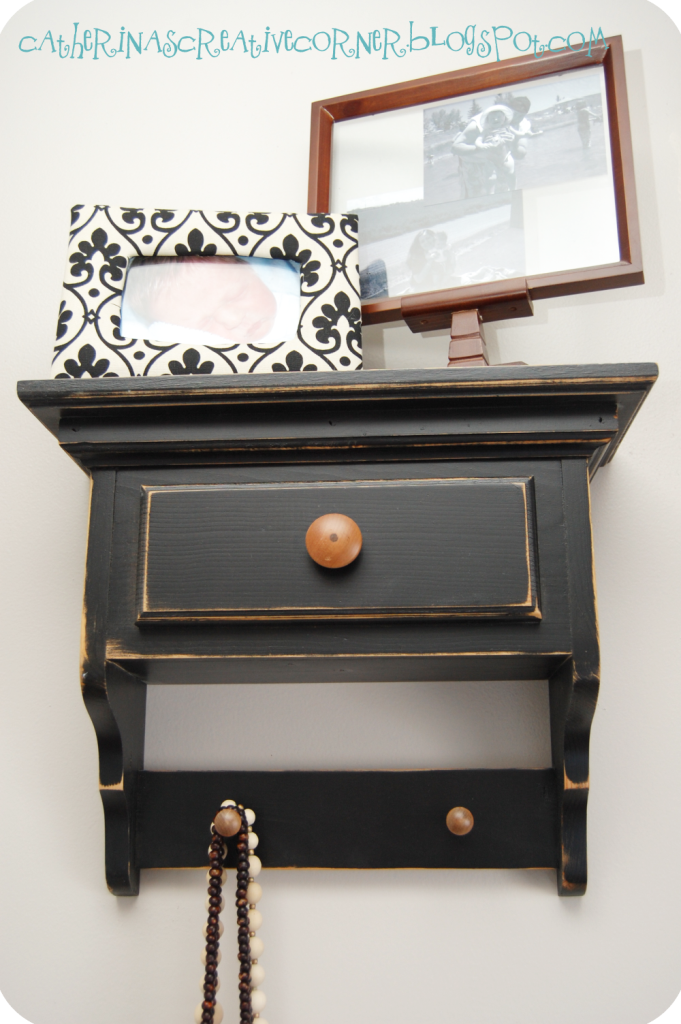 Now, these are the beds I love. Any votes? What one do you like and think would work best?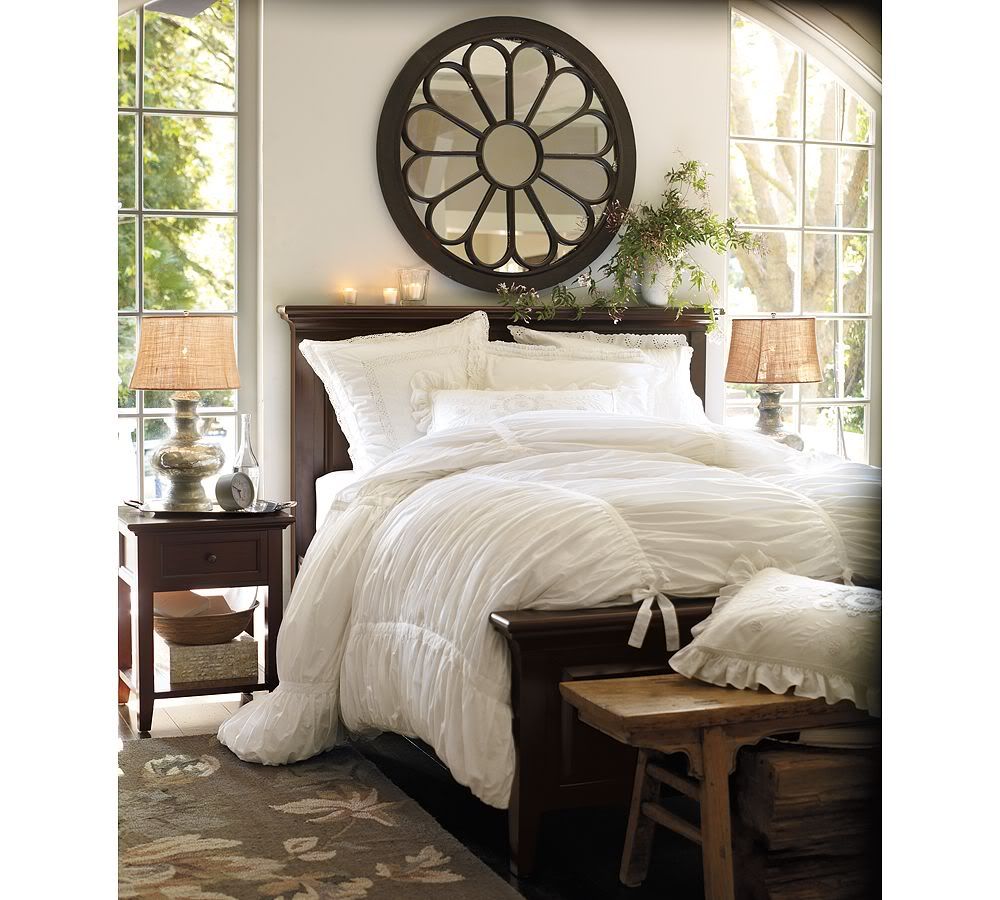 I would take this one in chocolate or black distressed. I love this all white cover.
LOVE LOVE LOVE THE CREAM
Absolutely I adore tufted headboards!!!!! This one is DARLING (and the bedding too!!!) I have a pale blue duvet cover too that I like to alternate my white with. It blends in well. For a switch up.